There are many nature places in Taiwan. Despite the modern lifestyle developing rapidly in Taiwan, there are many places that are untouched by modernity. Taiwanese cities are considered some of the most modern in the world.
Before reading the post, please follow Base in Melb on Facebook and Instagram. You can see new post notifications and travel news from time to time. 
If you leave the confines of cities like Taipei and Taichung, there are still many undeveloped areas that are waiting to be explored. Here are the top 5 popular nature destinations in Taiwan.
Top 5 Nature Destinations In Taiwan
Ali Shan 阿里山
Kenting 墾丁
Taroko national park 太魯閣
Sun Moon Lake 日月潭
Green Island 綠島/Orchid Island 蘭嶼
Ali Shan
阿里山
---
One night when I was a child my mom woke me up. I did not know what was going on, I knew someone pushed me into a bus and I puked a couple of times during the journey. Finally, we arrived and I realized that I was at Ali Shan.   
Ali Shan is a place that no matter how many times I visit, it never lets me down. Yes, it is an amazing mountain. From Sunrise to sunset and from dusk to midnight. Ali Shan is a place that I can never get tired of.
Visitors often take a train to the top of the mountain. There you can have a nice walk through the picturesque foggy mountain and watch the sunrise before heading to a nearby restaurant for breakfast.
Walking down from the top of the mountain you will walk through a dense forest, many of the trees in the forest were cut down by the Japanese during the colonial period, so did Taiping Shan, however, there are still some very old trees that are thousands of years old.
When is Best Season to see Blossom Cheery
From March to April, every year is blossom cherry season, during this time the cherries are blossoming around Ali Shan.
The train in Ali Shan is the highest train in Taiwan and if you are lucky enough, you might be able to take an old-style steam train.
Recommend route:
I suggest arriving early in the morning before sunrise and taking the train up to the top of Ali mountain. After the sunrise, take a walk through the forest and have lunch in Fenchihu Old Street.
On Fenchihu Old Street, you can enjoy the Beiton "a box with rice, veg and meat" that people usually eat during the train ride.
Note of Ali Shan :
Admission fee: Local People NT $200 | Foreigner Visiotr NT $300
Address : 602037 No.51, Checheng, Fanlu Township, Chiayi County 602, Taiwan
Opening hours : 24 hours
Kenting
墾丁
---
Kenting to Taiwan is just like Miami to the U.S.A or Gold coast to Australia. Beaches, Sunbathing and generally a fun atmosphere can be found in Kenting.
If you prefer beaches more than mountains or cities, Kenting is a perfect spot for you.
One of the top 5 nature destinations in Taiwan is Kenting. Kenting is located in the southeast of Taiwan where you can find the most beautiful beaches. Kenting is not only a beach suburb, but it also has many different kinds of museums, Kenting national parks, and beaches.
Sleep with Sea Creatures
You can even visit the local aquarium where you can sleepover in Kenting national park, you can enjoy the unique nature creatures of Taiwan and Forest trail. Kenting is also a great place for surfing, from beginner level to advanced.
If you do not know how to surf, that's alright, snorkeling is a good option too. A walk along the beach is also a great activity. White sand, black sand or reef sand beaches, you can find all of these in Kenting.
Note of Kenting National Park
Admission fee: Weekday NT $100 | Weekend NT $150
Address : No.596, Kenting Rd., Hengchun Township, Pingtung County 946009, Taiwan
Opening hours : 8:00 – 17:00 (Recommend enter before 15:30)
Taroko national park
太魯閣
---
Taroko National Park's natural beauty is very diverse and it is definitely on top 5 nature destinations in Taiwan.
If you are a fan of hiking or mountains, I highly recommend you should go to visit Taroko National Park.
If you decide to walk along one of the hiking trails you will see many different kinds of mountain views. For example, some of the different views will be able to see on the Yanzikou (Swallow Grotto) Trail are caves, rivers and rocky surfaces all embedded in the mountain.
Are Taroko national park and Norway cliff the same?
Some tourists say that Taroko national park looks similar to Norway, however more compact. Unfortunately, since I have not yet been to Norway I cannot make the comparison. Please comment below and share if you've been to both.
Various trails to explore
There are a variety of different trails that you can hike in the national park, each with their unique views and amazing photo opportunities.
One of the most special trails brings you to Qingshui Cliff which overlooks the Pacific Ocean and has a magnificent view.
Getting to Taroko national park is not particularly difficult. You might want to stay a couple of days to enjoy yourself while you are close to nature.
If you would like to immerse yourself into Taroko, there's a luxury hotel inside the national park where you can stay. However, if you would like to try something new such as indigenous people's home-style, there's one nearby along the Yanzikou (Swallow Grotto) Trail.
Note of Taroko National Park :
Admission fee: NT$200
Address : No.291, Fushi Village, Xiulin Township 972003 Hualien County Taiwan
Opening hours : 24 hours (08:00 – 17:00 customer service)
Sun Moon Lake
日月潭
---
Nantou is the only city in Taiwan that is not near the ocean. However, Sun Moon Lake ensures that the residents of Nantou do not feel left out.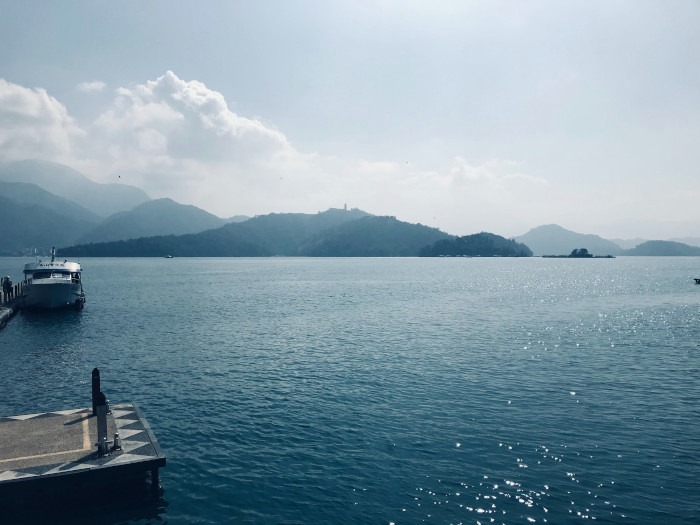 The lake is full of foothills and bicycle trails. Driving around the Sun Moon Lake takes about 45-50 Mins, the length of the Lake is 15.12 km and its area is 7.93 km². Sun Moon Lake is next to the theme park (Formosan Aboriginal Culture Village) where you can take a cable car to look down over the whole Sun Moon Lake view.
Recommend : Take a cable car to enjoy Sun Moon Lake overview.
There are two things I highly recommend you do:
FIRST THING
First, take a boat to the next stop and enjoy the Lake view. The boat price range is quite big, from NT $150 – NT $350 (depends on the boat company). But you can usually expect to pay around NT $200 for a round trip ticket between the three stops.
Get your special discount, click here.
Usually, there are three piers of the Sun Moon Lake, Yidashao Wharf(伊達邵), Xuanguang Temple(玄光寺)and Shuishe Wharf (水社).
Except for Xuanguang Temple, Yidashao Wharf and Shuishe Wharf both are shopping streets with Taiwanese indigenous food and souvenir shops.
SECOND THING
Second, hire a bike and cycle around the lake. Cycling in the Top 10 most beautiful bike paths in the world. If you do, please don't miss Xiangshan Visitor Center (向山遊客中心) where you can take a break and enjoy the modern building.
Recommend : Sun Moon Lake Ropeway & Bicycle Tour Pass
Note of Sun Moon Lake :
Hire a bike around NT $150 – NT $900 (depends on the bike condition and brand)
Address : No.127, Wenhua St., Yuchi Township, Nantou County 555005, Taiwan
Opening hours : 24 hours
Green Island & Orchid Island
綠島 & 蘭嶼
In my last article "Why should you go to Taiwan" mentioned that one of the three sea water hot springs in the world is on Green Island.
The Zhaori hot spring on Green Island is one of the only three seawater hot springs in the world. The other two are in Japan and Italy. The Zhaori hot spring is next to the beach that has a magnificent rocky and spectacular Pacific Ocean views.
Green Island is an island next to Taiwan about 50 mins to an hour by ferry or 15 mins flight. The island is quite a small and it only takes 30-40 mins to explore by scooter, 3 hours by bicycle or 19km on walking.
Where are Green Island and Orchid Island located?
Green Island and Orchid Island are both situated at the east of Taiwan Island and about 2 hrs – 2.5 hrs away from each other. Both are great places for snorkeling and diving, particularly Orchid Island which has the nature "Blue Hole" and unique Coral reef of Taiwan.
If you are interested in diving and snorkeling you can visit the website below for more information. )
The biggest difference between the two is that Green Island is more popular than Orchid Island, and it is more organized in regards to tourist facilities.
Green Island's History
Green Island was well known for its prison where many political dissidents were sent during White Terror period in Taiwan and nature sences. Due to being a secluded prison island, as well as also being physically removed from Taiwan; Green Island has been virtually untouched by modernity and therefore remains one of the most important natural beauties of Taiwan.
How many Indigenous Tribes In Taiwan?
There are 16 indigenous tribes in Taiwan and one of them has lived on Orchid Island for many years. Because their culture and living style are particularly different from the rest of the indigenous tribes, therefore this tribe is much more famous.
The Indigenous tribe that lives on Orchid Island is very famous. The tribe is called "Tao"(達悟族)and they rely heavily on local fishing.
What is The Tao's feature
The Tao people's traditional costumes and boats are quite unique and are easily recognizable. Because Orchid Island is located in a tropical area the tribal clothing is very simple.
Male members of the Tao tribe wear clothing that is most similar to a thong underwear with tribal patterns on it. Members of the Tao tribe still wear the traditional clothing to this day.
The Tao's famous boat is called The Pikatangian, it is covered in a unique tribal pattern. These boats are used primarily for fishing which is their main source of food.
Recommend: Orchid Island Ferry Tickets discount, depart from Taitung or Kenting
Get to Green Island :
By Plane (from Taipei or Taitung) or
Ferry (from Taitung's Fugang Fishing Harbor)

The ferry price is about NT$1200 (Return)
By ferry takes about 50mins
Get to Orchid Island :
By Plane (from Taipei or Taitung) or
Ferry (from Taitung's Fugang Fishing Harbor) or Kenting (Hou-Bi Lake Fishing & Yacht Port)

By ferry takes about 2hrs 30mins (depends on stop by Green Island)

The ferry price is about NT$2300 (Return)
Conclusion:
Besides these 5 places, there are plenty more beautiful nature areas that you do not want to miss.
Since Taiwan is situated in such a unique and amazing place, on the Eurasian Plate and across the subtropics and tropics lines, it makes Taiwan's natural beauty magnificent.
If you are a fan of nature, please comment below saying which one is your favourite.
---
Travel tools
*Both offer cheaper entry tickets to many attractions, such as museums and theme parks. You can even get discounts on sim cards, transportations and much much more.
When I look for flight tickets I usually go to:
Skyscanner is one of the biggest flight ticket search websites 
When I look for accommodation I usually go to:
Agoda (Tip: if you book without a refund policy, you can usually get a very good deal). 
Booking.com (my favorite website, easy to manage your bookings). 
Hotel.com (If you need to book more than 10 nights, you will get one night for free).
Read more about Taiwan
Read more about Travel Tips
Anything you would like to know about Taiwan? share with us and share this post with anyone who interested in it.
Note : Please note that some of the links above may be affiliate links, and with no additional cost to you, I earn a commission if you make a purchase. The commission will be used to keep the site running.