Taiwan is a small island country that is located in between Japan and South Korea and southeast of China. What you may not know, is that there are other smaller islands around Taiwan. Cijin island is one of these small islands, it is located on the left side of Kaohsiung City.
Before reading the post, please follow Base in Melb on Facebook and Instagram. You can see new post notifications and travel news from time to time. 
Cijin or Qijin is a special place for me, because my grandparents have lived there for many years and my father comes from there as well. Every year, we celebrate the Lunar New Year and other festivals, with my relatives, in Cijin.
Where is Cijin Island?
If you look at the map below, you will see Cijin Island is next to the center of Kaohsiung. It is long and skinny and it is about 11.8 km long and averages 200 meters in width.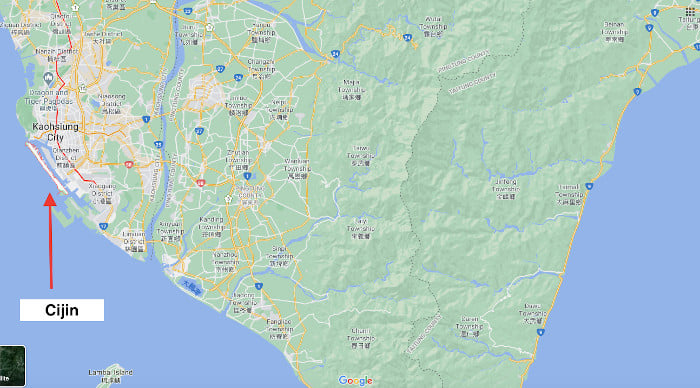 Because the island is so long it covers four districts of Kaohsiung city, therefore, there are many different options to travel between the main island of Taiwan and Cijin.
Cijin Island FQA
Is any hotel or hostel in Cijin
Yes, there are some hotels in Cijin and there is a camping site in the middle of Cijin Island.
Is one day enough to visit Cijin?
Yes, Cijin is a small island, one day is enough to visit.
Can I take my bike to Cijin via Ferry?
Yes, you can take your bicycle or scooter with you on the ferry and vehicle will be charged differently.
How to Get the Cijin Island?
Since Cijin is an island, transportation to Cijin Island is limited, public transport such as, Kaohsiung Mass Rapid Transport and Kaohsiung Trams, do not have routes that reach Cijin. However, there are four other options to get to Cijin from Kaohsiung City.
From Gushan Ferry Pier Station
The first one is the most common and popular one, which is taking a ferry from Gushan Ferry Pier Station to Cijin Ferry Station. Once you get off the ferry, you will arrive at the most popular place in Cijin, Cijin old street.
Gushan Ferry Station is close to the Monkey Mountain and Siziwan Beach, where you can enjoy the mountain view and the Ocean view.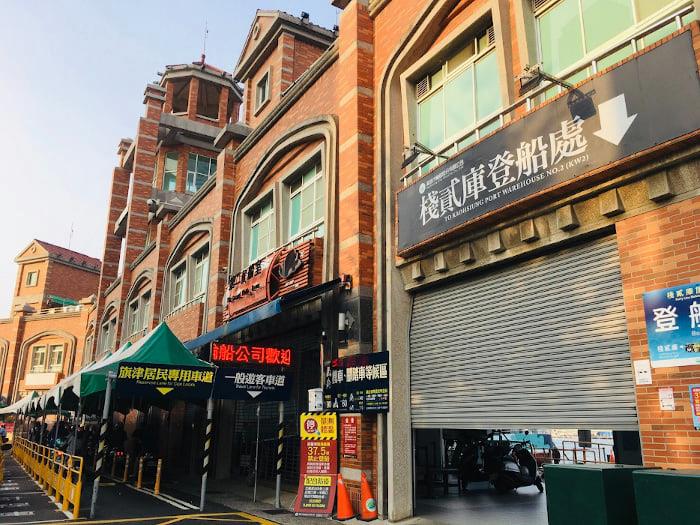 From Chanzehn Ferry Pier Station
The Second ferry, Zhong Zhou Ferry Station, is located in a hidden place that not many visitors know about and the location is not really convenient, either.
For anyone who does not have a small vehicle such as a bicycle or scooter will have a problem getting to the main tourist spots.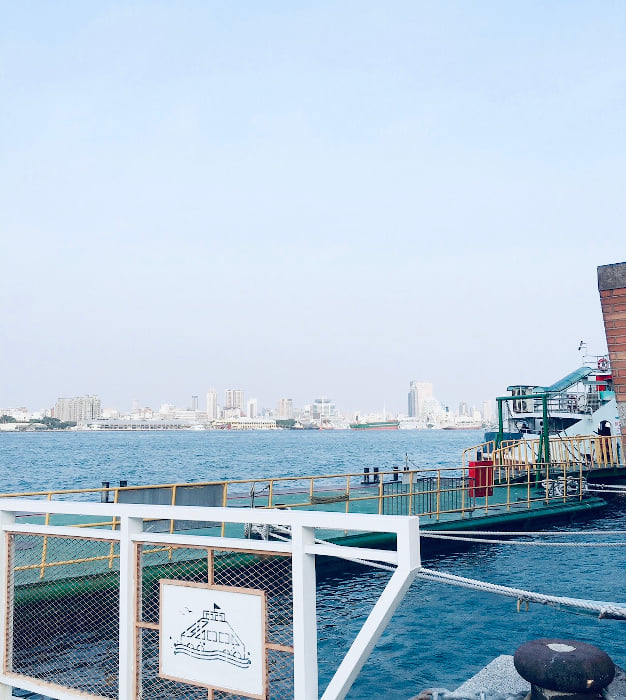 You can take a ferry from Qianzhen (Chanzehn) Ferry Pier Station that is nearby the Dream Shopping Mall.
Personally do not recommend you to take a ferry there or back, not only is it inconvenient, it is also much less frequent than the Cijin one.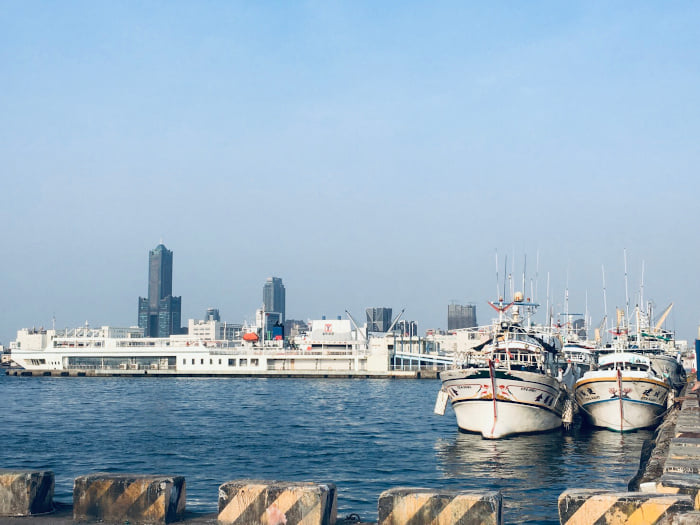 Take a shuttle bus from MRT
The third option is taking a bus through the only tunnel that connects Cijin with Kaohsiung city. This option is suitable for anyone who has more time and prefers traveling through the roadways rather than taking a ferry. Click to see all the options of public transports in Taiwan.
My parent's house is very close to the tunnel so we usually travel through the tunnel. It is also the only underground tunnel in Taiwan.
From Pier 2 Art Center
The fourth way is a relatively new route. You can take a ferry from Pier 2 Art Center, there is a small shopping mall called KW2, it is located next to the pier. Many visitors will take a ferry from there but the frequency is not as good as Gushan Ferry.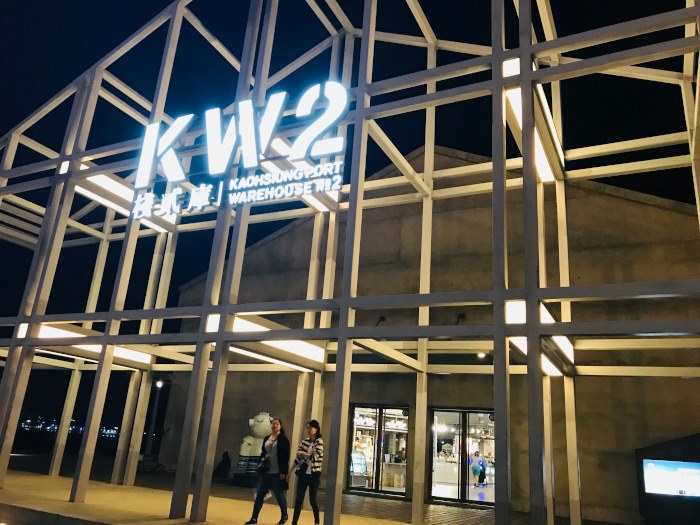 Ferry Price: Adult NT $40 (NT $20 with i-Pass) | Student NT $25 (NT $15 with i-Pass)
Bus information: take a Red 5 on MRT Cianjhen Senior High School Station(Labor Administration Center) or Red 4A MRT Caoya Station.
Bus Price: Adult NT $12
How to get around Cijin Island
So since you know how to get to Cijin, you might wonder how to get around this skinny island. Cijin is 11.8 km long but almost half of the island is a residential area that does not have many interesting things to see or do there.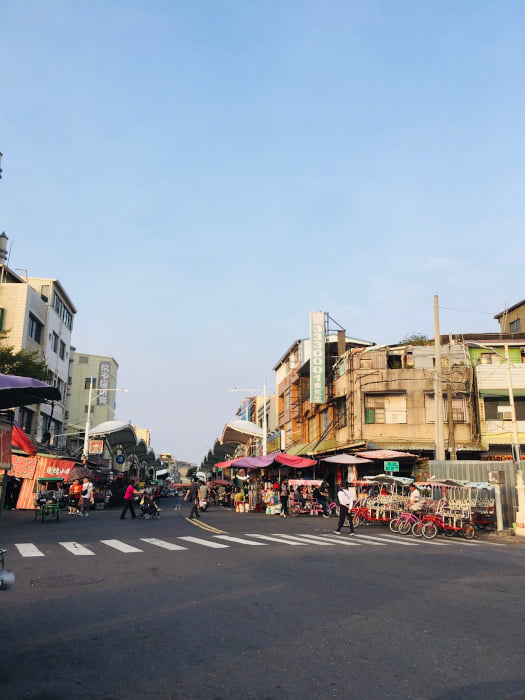 The cheapest way to get around is by foot. From north to south takes about 2 hours, however, as I said, half of the island has nothing to explore.
If you are not a fan of walking, there are some ways you can explore and unwind in this island from the urban jungle. You can take a bicycle, electronic scooter, tricycle, and bus.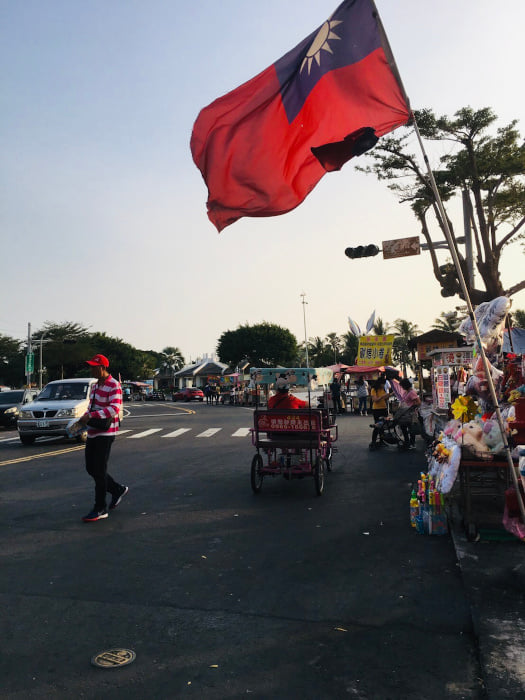 The price of renting your own vehicle:
Renting a bicycle: Around NT $100 per day
Renting an electronic scooter: NT $200 per hour
Hire a tricycle driver: NT $200 for 20 mins
Taking a bus: NT $12 for one way
**Recommend: Purchase your Easy Card | i-Pass Card
What can see in Cijin Island
Even if Cijin is a small island, there are actually a lot of places you can have a look. Let's check the map below, we will start from the Cijin Pier Ferry Station.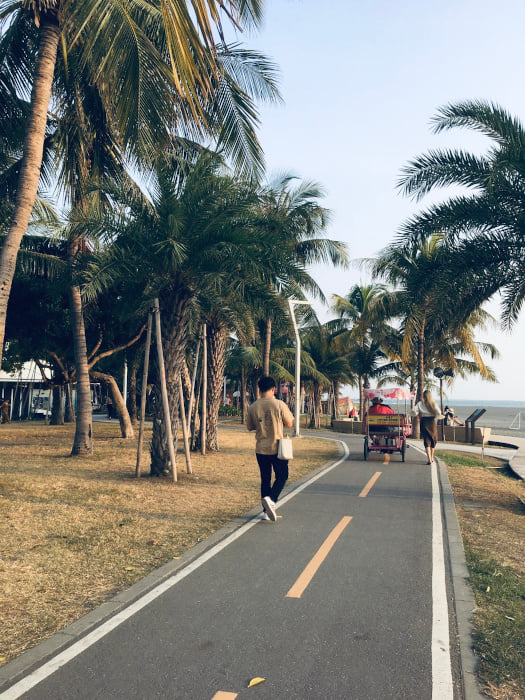 Cijin Island Old Street
旗津老街
Once you leave from Cijin ferry station, you will see the Cijin Old Street immediately. Cijin Old Street is a street covered with plenty of street food vendors, seafood restaurants and bicycle renting shops.
The biggest feature of this street food is that most street food stalls sell seafood such as Fish Ball, Squid, Fish Cake, among other things.
The seafood in Cijin is very famous, particularly the seafood restaurants and stalls on the island.
Most restaurants serve seafood that is fresh and you can also choose which fish you would like to have. In front of the restaurants, there are a lot of fish tanks with different kinds of fish, and people often choose the fish that they want and even the way they want it cooked, or you can let the restuarants decide how to cook the fish.
Cijin Island Old Street
Address: Miaoqian Road, Qijin District, Kaohsiung City, Taiwan 805
Opening Hours: Around 11 – 19 (depends on stall shop)
Cijin Tianhou Temple
旗津天后宮
Mazu is one of the most popular sea goddesses in Chinese culture. Pretty much anyone who works in something related to water will pray to her. Cijin Tianhou Temple is also called Cihou Tianhou Temple and was built in 1673. Read more about travel tips for temples in Taiwan.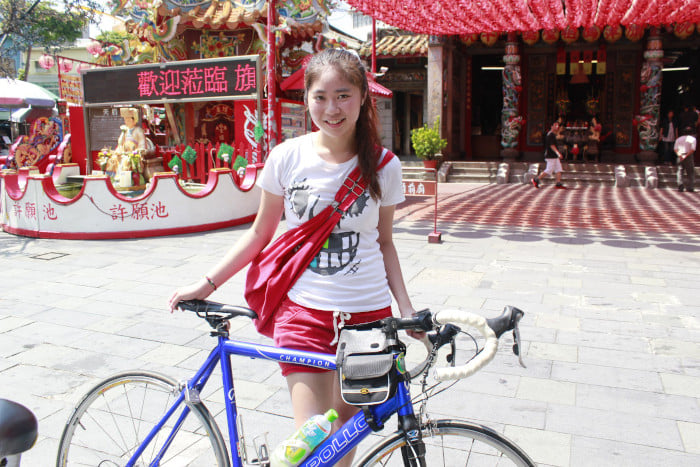 A very long time ago, there was a woman called Xu Ahua, she lived in Fujian (one of the provinces of current-day China) during the Qing Dynasty, one day she went fishing and encountered a typhoon, which brought her to Cijin Island.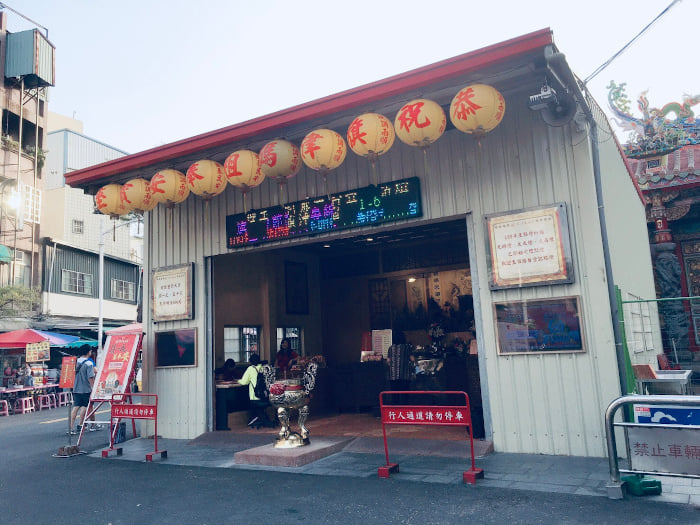 After she went back and told the others, they decided to move to Cijin together and took the Mazu with them to protect their safe and peaceful life.
Today, Mazu is still a very popular goddess in Taiwanese religious culture. Moreover, people pray to her everywhere in Asia including, Japan, Vietnam, Singapore, Malaysia and even U.S.A and Canada.
Cijin Tianhou Temple
Address: No. 93, Miaoqian Road, Qijin District, Kaohsiung City, Taiwan 805
Opening Hours: 6:00 – 22:00
Cijin Beach (Cihou Beach)
If you continue walking, you will see the Cijin beach/Cihou Beach. Because half of Cijin island is made up of beaches, local people usually call it Cihou Beach.
There are a lot of beaches in Cijin, most of the beaches do not have lifeguards, however, so they can be quite dangerous if you are not a strong swimmer and there are many beaches that forbid swimming.
The sand color in Cijin is black which is quite rare and not really common around the world (The sand in Kenting is white).
There are different reasons that cause the sand to be black, for example, the sand in Cijin beach is a combination of clastic rock and quartz particles giving it that unique color.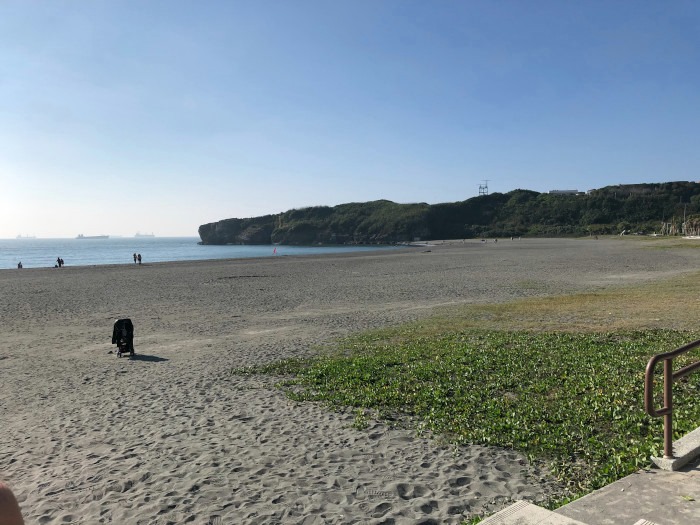 There is a seafood market right across the road from Cihou Beach. If you are a big fan of a dried seafood snake, you might find it to be a paradise.
There are a lot of vendors selling snake and other dried seafood, such as shrimp cake, dried fish and more. They usually offer you to try it before buy it too, so please do not be afraid to try anything new. You might be surprised with the seafood's favor.
There is a bar on the Cijin Beach, it is perfect for anyone who wants have a chill day and enjoy the beauty of Cijin.
Cijin Beach (Cihou Beach)
Address: No. 1, Miaoqian Road, Qijin District, Kaohsiung City, Taiwan 805
Opening Hours: 9:30 – 18:00 (no lifeguards after 18:00)
Cijin Star Tunnel
旗津星空隧道
Head to the north of Cijin along the beach, you should able to get to Cijin Star Tunnel. It is not really easy to discover if you are in Cijin for the first time.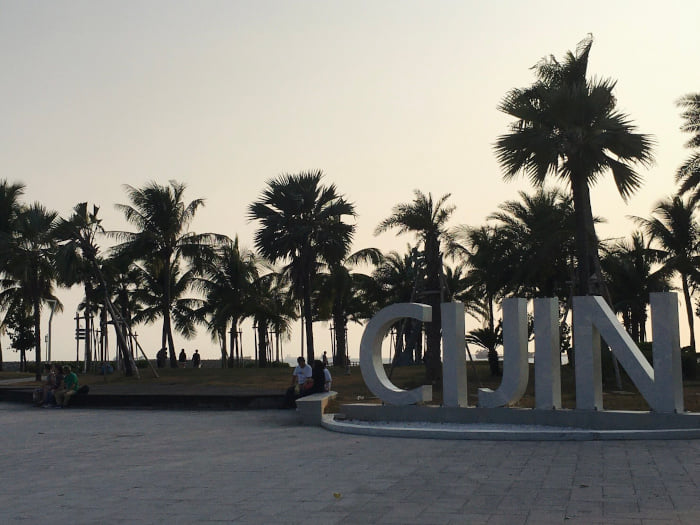 There is a direct sign but unfortunately, it is in Mandarin only. However, if ask anyone around the area or point to the picture if them, I am sure they will be very happy to give you directions.
The Tunnel was built under Japanese rule in 1895 – 1945 for the military to use and it was abandoned for a while until in 2005, the local government rebuilt and reorganized it as a bike and walking path.
At the end of the tunnel, you will find a monument for Dr. James Laidlaw Maxwell. Dr. James Laidlaw Maxwell was an Irish Doctor who came to help the ill, he came to Taiwan, Cijin on the 28th, May 1865.
Looking at the ocean view from Cijin Tunnel is very different than the Cihou Beach. The rocks next to the tunnel make the waves more strong and powerful. Along the walking path, you will get to the back of the Mountain, where you can enjoy the Kaohsiung city view from a different point of view.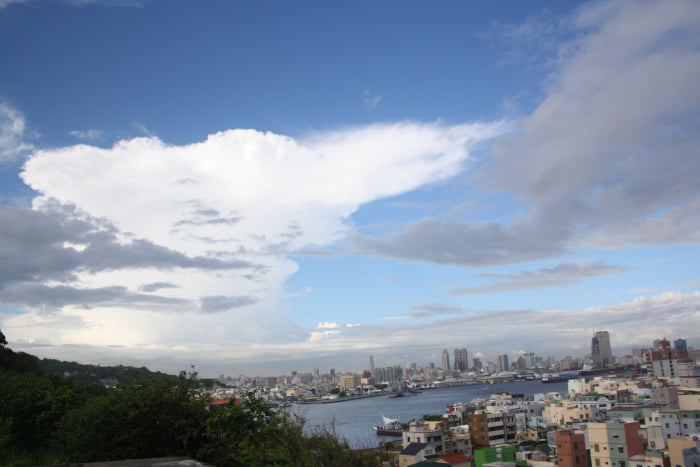 Before leaving this area, there are a few more places you should check out. They are the perfect spots for a wonderful rview of Cijin Island to lookout onto the other side of Kaohsiung City.
Cijin Star Tunnel
Address: Lane 1, Miaoqian Road, Qijin District, Kaohsiung City, Taiwan 805
Opening Hours: 24hours
Cihou Fort
旗后砲台
Cihou Fort was built as a fortification in order to defend against the Japanese army. Earlier that same year, the Japanese army attacked Pingtung which is also located in the southeast of Taiwan.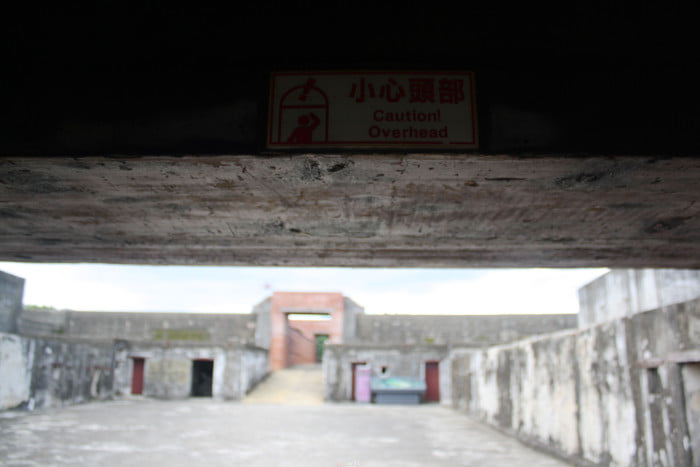 In order to protect Taiwan, the Qing Dynasty decided to send an Imperial Commissioner, Shen Baozhen, who worked at the Foochow Arsenal in Fuzhou Shipyard to Taiwan to deal with this matter. He was also in charge of the Eternal Golden Castle in the former capital, Tainan.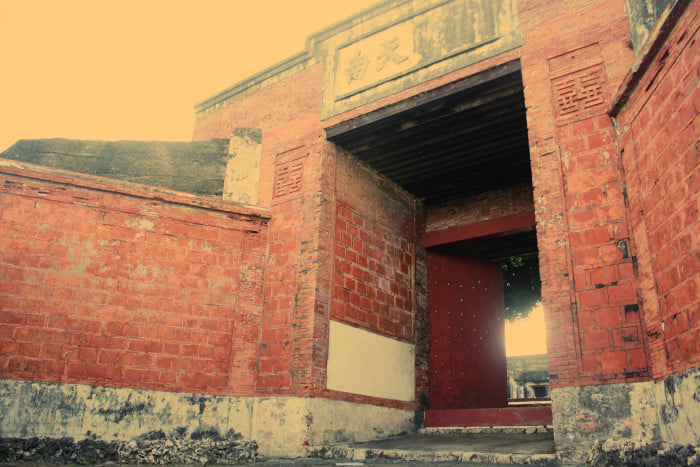 At 6:55 am on 15th Oct 1895, there were two Japanese Marine navy vessels that shot the engraved gateway tablet that read "Mighty Power of the South". Because there was no director, the canons were shot 5 times and failed in the battle.
Cihou Fort
Address: Mount Cihou, Qijin District, Kaohsiung City, Taiwan 805
Opening Hours: 24 Hours
Kaohsiung Lighthouse
高雄燈塔
Kaohsiung Lighthouse was built in 1883 under the Qing Dynasty between 1683 – 1895 and is still used to protect trade ships today. The local people usually refer to it as Cihou (Qihou) Lighthouse. The ground of the Lighthouse is a baroque style with an octagonal light tower.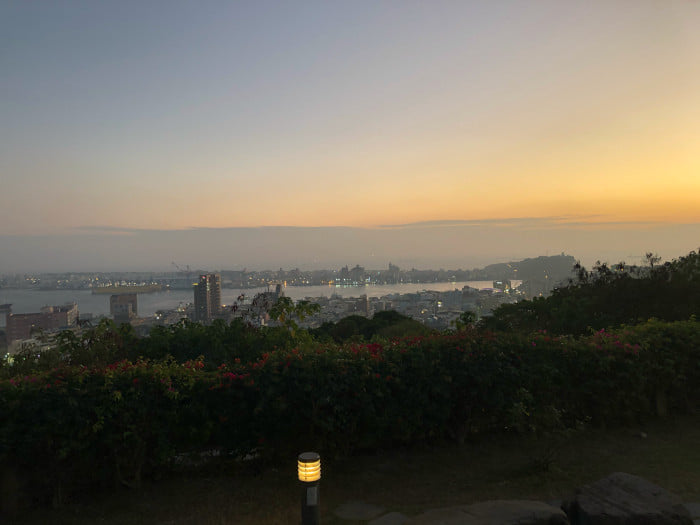 During WWII, Kaohsiung Lighthouse was shot by machine guns, but luckily the lighthouse did not get too damage and was still operating.
Kaohsiung Lighthouse
Address: 22°36'55.9″N 120°15'53.0″E
Opening Hours: Nov – Mar 9:00 -17:00 (Monday closed) | Apr – Oct 09:00 – 18:00 (Monday Closed)
Rainbow Church & Ocean Pearl
彩虹教堂&海珍珠
Rainbow Church is a relatively new Instagram picture spot in Cijin. There are photography studios that rent a place from the Kaohsiung Government which they use to offer photography services, particularly for wedding photos.
So Rainbow Church is not really a church that you can pray at, but if you pass by this area, maybe it is worth taking a picture for your Instagram.
Rainbow Church & Ocean Pearl
Address: No. 990, Qijin 3rd Road, Qijin District, Kaohsiung City, Taiwan 805
Opening Hours: 6:00 – 16:00 (ocean Pearl opens 24 hours)
Cijin Shell Museum
旗津貝殼館
Next to the Rainbow Church is the Cijin Shell Museum where 2,000 types of shells donated by Huang Ke-liang, are displayed. These shells come from Southeast Asian species, if you are interested in seashells, you definitely need to check this place out.
Cijin Shell Museum
Address: No 887, Qijin 3rd, Qijin District, Kaohsiung City, Taiwan 805
Opening Hours: 9:00 – 17:00 (Monday Closed)
Admission Fee: NT $30
Cijin Windmill Park
旗津風車公園
There are 7 windmills located in Cijin Windmill Park. Each of them has 3 blends to produces the wind power and they provide 79 KW per day for the park itself to use.
A lot of visitors go there to enjoy and chill with the sea creatures around the park. The Windmill Park faces the Taiwan transit and there is a walking/cycling path in front of the park. Therefore, many people will swing by there and take a break to enjoy the ocean and view and wait for the sun to set.
If you stand in the windmill park and look straight to Taiwan, you should see the tallest building in Kaohsiung, 85 Sky-tower CTtraveller Suit. It is very clear to see it while the weather is sunny and the skies are clear, which is quite common weather in Cijin.
Cijin Windmill Park
Address: Qijin 2nd Road, Qijin District, Kaohsiung City, Taiwan 805
Opening Hours: 24 Hours
Where to eat in Cijin Island
After visiting so many places, I am assuming you are hungry by now. Cijin Old Street is not the only place you will find food, there are many places you should explore as well.
Cijin Island Old Street
旗后老街
Before heading to another place, let's talk about what you can try in Cijin Old Street. As I mentioned before, the vendors sell most street seafood snacks. The snacks probably will not fill your stomach but will give you a little energy to continue exploring.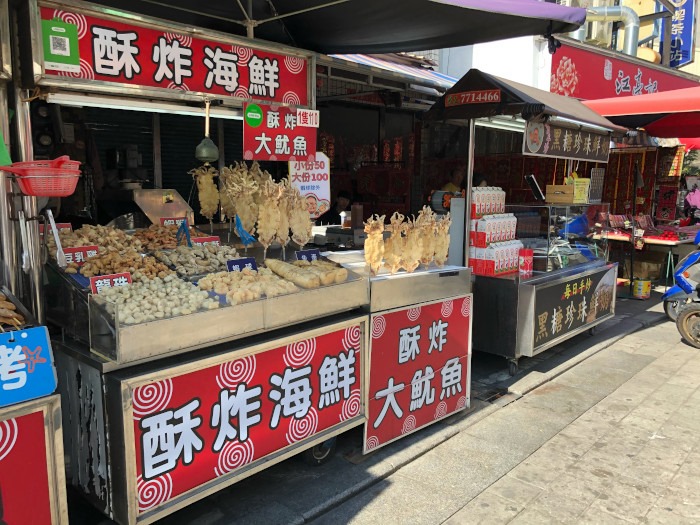 Must try food:
Grilled/Fried squid
Fried cuttlefish ball
Fish cake/stick
Shrimp Roll
Seafood Restaurants
There are plenty of seafood restaurants in Cijin Old Street and in that area. The price and quality are pretty much the same for all restaurantss, but there is one thing you need to keep in mind, remember to always ask the price before dining.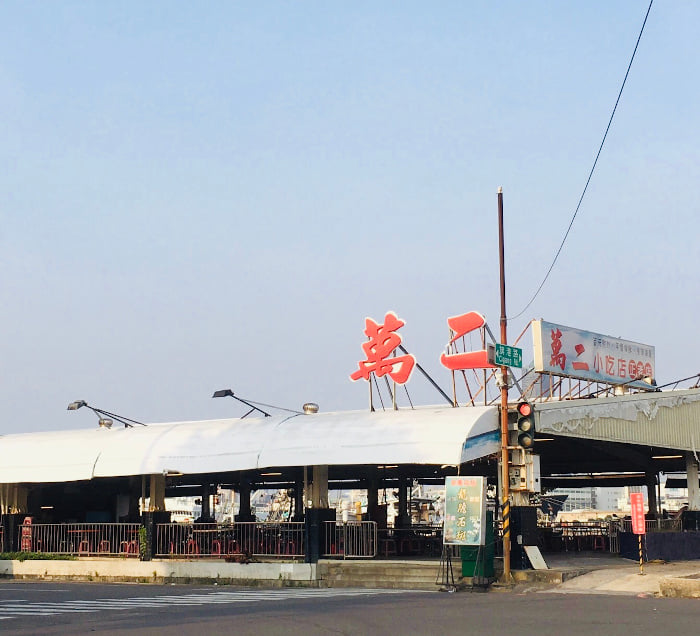 The price can be measured in different ways, usually by weight, but sometimes it can be some other way. There are a couple of seafood restaurants that are very famous and popular amongst the local people as well. They are not on Old Street, so you might need to take a bus or bicycle to get there.
The very basic dishes starts from NT $100 and go up to NT $500 per dish, depending on what you order. The way it works is that you buy vouchers at the entrance and exchange them later in the restaurants, for the dishes you want.
The dish will be displayed on the table, grab any you like and pay with the voucher tickets. You can return any vouchers that are left over.
Address: No. 50-60, Beishan Ln, Qijin District, Kaohsiung City, Taiwan 805
Cihou Seafood Market
旗后觀光市場
In the Cihou Seafood Market, as I mentioned earlier, there are a lot of vendors that sell dried seafood snacks, they all pretty much sell the same things. This area also happens to be a perfect place to get some souvenirs for your family.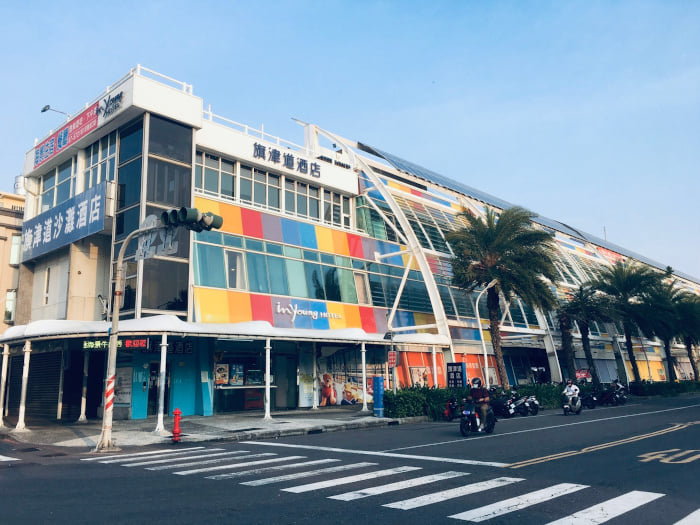 This seafood market does not have many things that you can consume straight away, most of the things that they sell there are souvenirs and seafood products you take home to cook.
Must Try:
Shredded squid 魷魚絲
Agar 洋菜/燕菜
Cihou Seafood Market
Address: No. 1050, Qijin 3rd Road, Qijin District, Kaohsiung City, Taiwan 805
Opening Hours: Mon – Fri 8:00 – 20:00 | Sat & Sun 8:00 – 22:00
Conclusion:
Cijin Island is a nice place to unwind from the urbane jungle. Having a chill day in Cijin and enjoying the slow pace of the island is great.
Cijin is really worth visiting for a day trip in Kaohsiung, it is really easy to get to and it is an awesome place to enjoy some fresh seafood meals.
---
Travel tools
*Both offer cheaper entry tickets to many attractions, such as museums and theme parks. You can even get discounts on sim cards, transportations and much much more.
When I look for flight tickets I usually go to:
Skyscanner is the biggest flight ticket search website
When I look for accommodation I usually go to:
Agoda (Tip: if you book a non-refundable room, you usually get a very good deal).
Booking.com (my favorite one, easy to manage bookings).
Hotels.com (If you book more than 10 nights, you will get one night for free).
Anything you would like to know about Taiwan? share with us and share this post with anyone who interested in it.
Note : Please note that some of the links above may be affiliate links, and with no additional cost to you, I earn a commission if you make a purchase. The commission will be used to keep the site running.